Center for Anxiety and Behavior Management
(908) 914-2624
Chester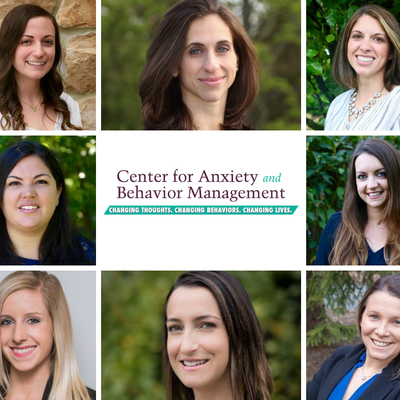 What do we do at the Center for Anxiety and Behavior Management?
We help members of our community take control of their lives so that they can be who they want to be.
We offer various evidence-based services, including individual psychotherapy for children, teens, and adults; family counseling; couples counseling; and community education to members of our community.
Our therapists' commitment to providing quality treatment and giving you practical, action-oriented strategies are why we are one of the most sought after mental health practices. We are constantly growing our specialties through education and supervision so that we can continue to help our community members meet their needs.
14 Benefits of Choosing the Center for Anxiety and Behavior Management
Tailored Strategies to Meet Your Needs
We understand that your life circumstances may be different than those of others. That's why we emphasize tailoring our strategies to meet your specific needs.
Empathic and Compassionate Therapists
Our focus is first and foremost on listening and truly understanding your unique situation before implementing change strategies. Many people often feel unheard and misunderstood by those in their lives, and it is of utmost importance to us that you feel safe, secure, and understood in our care. Having an in-depth understanding helps us design a more effective treatment plan.
Our Diverse Specializations
When you have a problem, don't you want a specialist who has treated your issue day in and day out? That's what you get with us! Our therapists are highly trained in their own niche areas. We have extensive experience working with your concerns!
Time-Limited Therapy
Because we use science-supported strategies, treatment is expected to be shorter in duration.
Full-Time Office Staff
Are you tired of calling other offices and leaving voicemails? You won't have to do that with us. We have warm and friendly office staff to answer your calls, respond to your emails, and provide you with assistance when you need it, 6 days a week. We strive to bring you the best customer service possible.
In-Office Resources
We strive to have everything you'll need to achieve your goals. We have whiteboards in all offices for those who like visuals. We have workbooks for those who prefer more structure. We have handouts for extra practice on concepts and strategies discussed. If you'd like, we can give you notebooks, folders, paper – whatever you need!
Afternoon, Evening, and Weekend Appointments
We have plenty of afternoon, evening, and weekend appoint times available. Call us to find one that fits your schedule!
Cutting-Edge, Effective Therapy That Works
We believe in using effective, evidence-based treatment approaches to help our patients. Our goal is to teach you to master the skills necessary for addressing your struggles so that you are equipped to handle future difficulties on your own.
Experts in Mental and Emotional Health
We believe in following the ever-evolving science to lead us to the most effective assessment and treatment strategies known. That's why we attend multiple continuing education opportunities each year.
We Save You Time
We have multiple offices and multiple therapists. We can save your family time by offering simultaneous appointments for your family members.
Convenient Location
We're conveniently located near the new Toys with Love building in Chester, NJ. Because we're located near Route 206, you can get to us from anywhere! Stop in for your session and then go shopping or grab a bite to eat after!
A Welcoming Waiting Room
When you're waiting with us, you'll feel at home. You won't be staring at boring, white walls. We have a flat-screen TV for your enjoyment. We also provide free Wi-Fi for your convenience. If you want to disconnect from electronics, we have a variety of magazines you can read. If you're bringing children, we have a child's play area to keep them entertained. We also provide complimentary coffee and water. Your comfort is our priority!
Comfortable Offices
When you come to us, you'll feel at home. We have comfortable couches and chairs, a play area for children, beautiful wall decorations, and soothing paint colors. You won't feel like you're in a sterile facility.
Morning Appointments
Not everyone wants afternoon appointments. Some like to stop in on their lunch breaks. Others want to come in while children are in school. If you are a homeschool or stay-at-home parent, retiree, college student, or working professional who has a flexible schedule, take advantage of our early morning and lunch time appointment spots.
Age Groups

Children
Adolescents
Adults

Health Services

Behavioral / Mental Health

Treatment Services

In-Community Services

Outpatient Services

Treatment Setting

Payment Options
Areas Served

Hunterdon County
Morris County
Somerset County
Sussex County
Warren County
Last Updated: 10/03/19